Home TV
Home Media Networks, Personal Video Recorders, WiFi TV, Content Intelligence and Electronic Programming Guides, and Desktop Video Authoring Tools give us more control over what we watch and how we watch it
Home TV sets are going flat, digital, and high definition, but the big news comes in the array of new features for managing programming, creating our own TV shows, and integrating all of our digital entertainment.
By Julie Brumlik | August 20, 2009
In the U.S., 248 million televisions are installed in 108 million homes reaching 94% of the adult population. In the 1980s, new technology — specifically cable and satellite delivery — dramatically increased the number of programs and channels offered. In the 1990s, DVD optical disk and Internet streaming media added to the home media experience. In the 2000s, flat panels, digital TV, Personal Video Recorders and High Definition Television increased the quality of the image and handed more control to the viewer. The digitization of TV melts the border between consumer electronics and information technology, making the home the next IT battleground.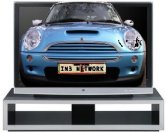 The latest Sony WEGA TV is wider than the MiniCooper sports car. Giant flat digital TVs have replaced bulky CRT (cathode ray tube) televisions in millions of households and driven the price of a home set up into the $4,000 to $5,000 range. Plasma screens and LCDs (liquid crystal displays) dominate today, but DLP (digital light processing), LCoS (liquid crystal on silicon), FED (field emission display), SED (surface-conductor electron-emitter) and OLED (organic light emitting diode) displays that are brighter, sharper, bigger and maybe someday cheaper are poised to compete.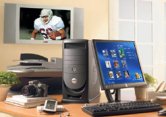 Watching TV is getting so complicated you need a computer, and Microsoft's Windows XP Media Center Edition running on hot PCs like this Dell at left help organize your home's digital assets — live TV feeds, stored digital video and audio, digital photgraphy and video games. The link between the PC and the home TV set has always been tricky; the Media Center may be too much integration for most people, although the vision of total media control is attractive.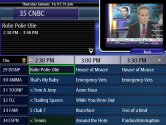 Cable and satellite programmers bless us with hundreds of channels of broadcast content; we snatch some programs to disk on our TiVo PVRs; we buy hundreds more DVDs and make our own home movies; and we download gigabytes of video off the web. Electronic Program Guides likes the one in Interact-TV's Telly media server help us find what we want, but until we have global standards and intelligent XML content coding, most of the TV we're fed will be unfindable.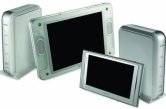 Placeshifting transmits your home TV over the Internet to wherever you are in the world. We get TV signals from broadcast towers, cable TV systems and DBS (direct brodcast satellite) antennas. Now, Sony has introduced another channel: WiFi or 802.11 wireless Ethernet. Sony's 12 inch and 7 inch LCD LocationFree TV receivers at left link to base stations plugged into the home entertainment network to click through TV channels, watch DVDs and surf the while out by the pool, on the front porch or in China.
Ultimate control over home media comes with creation. New digital video authoring and editing tools and an explosion in home DVD recorder sales promises to make every consumer a TV producer, whether it's shooting new content with a DV cam, recording opportunistic video on a mobile phone, or re-editing and sampling recorded programs produced by Hollywood.
HOW, WHO AND WHAT?
IN3's Pervasive TV Project examines the transformation of the home video landscape by power-shifting technologies:
How much and how fast will current TV viewers adopt new TV control technologies?
Who are the most likely prospects (e.g. GenY, GenX, niche viewers, creatives)?
What is the prognosis for intelligent content coding and streamlined robotic program controls?
What is the threat to the conventional advertising models?
What does pervasive TV mean for the future of copyright (e.g. digital rights management, Creative Commons, sunset policies)?

Will home TV programming become portable (e.g. viewer profiles, WiFi access, mobile home server links)?

How far can we push this (e.g. customized TV networks, personal video journals, sponsored home content)?
The most dramatic changes in TV use will come outside of the home, but generations raised on a digital sensibility will probably not be satisfied with top-down one-to-many broadcast TV models.
---
UPDATED AUGUST 20, 2009 BY JULIE BRUMLIK, ASSOCIATE EDITOR