Office TV
Streaming media, teleconferencing, distance learning, security, surveillance, simulation — there's a lot of TV in the modern office
Streaming media gained its early audience in the office, where fast T-1 lines and powerful PCs made those miserable early video feeds less poky. But once TV hit the office desktop, a wide range of business applications opened up that offered news, education, on-line meetings and surveillance applications at very affordable price points.
A Harris Interactive study for WebSense found that 80% of employees at U.S. companies with more than 100 employees have Internet access at work, with three-quarters of those having high speed connections. Employees average just under 9 hours per week on the Internet: 21% view streaming media; 10% play DVDs; 14% play games and 2% download media from peer-to-peer networks. Tens of millions of office workers are watching television at their desks, for business and for fun.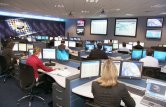 Dell Corp.'s new customer support center in Ireland prefigures the future of the electronic office. I count about a dozen people and at least 60 video screens in three-up configurations, some running standard IT apps and others showing industrial video segments, animations and live data visualizations. The introduction of 64-bit desktop PCs with fast video screens and gigabit networks enables more visual computing.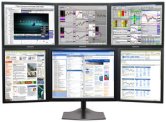 If one video monitor is good, and three are better, then six are best. The TigerVista Arena monitors at left and Horizon at right come in many multi-screen

configurations so you can work a spreadsheet, surf the web, run a simulation and watch TV all at once. The flat LCD monitors that have replaced bulky CRT screens combine large screen forms with small desktop footprints.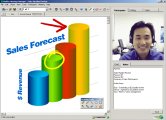 Low cost webcams linked to conferencing software like this WebEx demo at left record web seminars fo

r distance learning over the Internet and video teleconferencing for live meetings across multiple sites. Simplified authoring tools like Serious Magic's Visual Communicator at right streamline the process of producing and distributing office videos on-line and on DVD.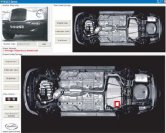 T

he Internet-connected webcams used for distance learning and teleconferencing are also used in security and surveillance applications. The artificial intelligence in Stratech's car-bomb finder at left searches for unexpected anomalies with before-and-after digital snapshots of suspect vehicles. The remarkable iSee Project plots the hundreds of webcams pointed at public spaces like the New York Financial District.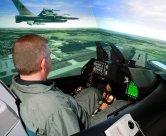 Another kind of workplace is the cockpit of a jet fighter at 50,000 feet.

The Link simulation at left uses big wraparound video screens to train pilots in complex maneuvers while they're safely — and more cheaply — on the ground. Google's Keyhole program uses terrain maps and satellite imagery to let planners "fly" over proposed terrain and virtually examine proposed building sites from the air.
WHAT, WHO AND HOW MUCH?
Employees may be surfing and downloading entertainment on company time, but business managers apply Office TV to lower costs, boost sales and increase productivity. IN3's Pervasive TV Project examines the opportunities for pin-striped video:
What are the most compelling and profitable applications?
What does the business TV infrastructure need?
What are the creative tools for desktop video and office-ready production?
Who will manage programming and production?
How much does it cost, and what is the Return on Investment?

What is the effect on customer service, on marketing and branding, on overall corporate communications?

How far can we push this (e.g. multimedia learning databases, virtual reality conferencing, video telecommuting)?
Teenagers preparing for the video-enhanced world of work should learn how to look good on television as meetings, seminars, sales calls and security screenings are likely to ccome more video than real in the next ten years.
---
UPDATED APRIL 20, 2005 BY JACK POWERS, EDITOR